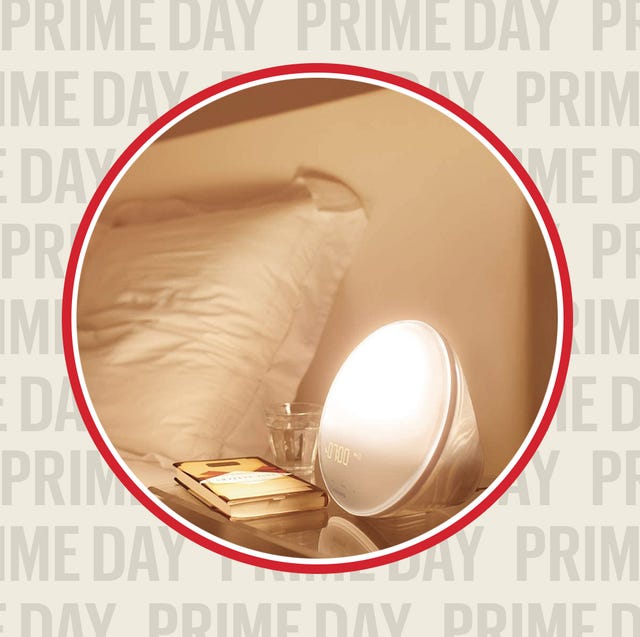 We think you'll agree 2020 has been a pretty tough year already, but now we are entering the darker winter months, it's easy to feel the effects of seasonal affective disorder (SAD).
The lack of natural sunlight in the mornings and evenings has a big impact on your wellbeing and can effect your mental health without you even realising what's going on. And we wouldn't be surprised if lockdown has messed your sleep cycle up a little bit or made you feel more tired during the day.
Cue SAD lamps: alarm clocks specifically designed to gently wake you up with ambient light, slowly increasing in intensity to ease you out of sleep by emulating the rising sun, which sounds way better than being violently awoken by our alarm clock every morning.
Thanks to Amazon Prime Day, quite a few SAD lamps are now discounted heavily, helping you save money on a new alarm clock scientifically proven to improve mood, help you wake up better and combat SAD.
To make the most of these deals though, you should sign up to Amazon Prime, which will unlock all the exclusive offers while the sale is still on.
Sign Up To Amazon Prime
Prime costs £7.99 a month, or £79.99 for the whole year, unlocking a bunch of great benefits like free next-day delivery and access to Prime Video.
Amazon Prime Day ends at midnight on October 14, so grab a bargain while you still can.
Check out our top SAD lamp picks below and save yourself money on your new purchase.
Advertisement – Continue Reading Below
1
Lumie Brazil – Large 10,000lux SAD Light Therapy Lamp
Lumie
amazon.co.uk
£124.99
Lumie developed the very first wake-up light and have been building improved devices ever since, culminating in the Brazil device. 
Three powerful white bulbs provide 10,000 lux at 35 cm with a convex design to channels the light towards you, helping to adjust your eyes for when you wake up. 
Save £25 on Amazon right now, paying £124.99 instead of £149.69.
Shop Now
2
Philips Wake-Up Light Alarm Clock
Philips
amazon.co.uk
£89.99
Not only can you wake up in a better mood with a good SAD lamp, you can also drift off to sleep easier, with this Philips lamp that radiates gentle, dimming sunset light and sounds to relax your mind. 
This one can be set to start lighting up half an hour before you plan to wake up, gradually increasing up to 300 lux, accompanied by a choice of bird noises, your chosen radio station, or three other wake-up sounds to get you ready for the day.
Amazon has dropped the price from £149.99 down to £89.99, saving you 36%.
Shop Now
3
Beurer TL50UK Compact LED SAD lamp
Beurer
amazon.co.uk
£75.68
What better way to gradually light up your room than with a lamp shaped literally like the rising sun? 
The slim, simple design fits right on your bed-side table or desk, gently increasing the light intensity to up to 10,000 lux (distance of approx. 15 cm), with enough bulb life to last up to 10,000 hours. 
Prime Day is giving you the chance to pick it up for £52.99 down from £75.68 so act fast. 
Shop Now
4
Lumie Bodyclock Luxe 750D
Lumie
amazon.co.uk
£219.99
Lumie is most famous for building top-quality SAD lamps, and this premium option has a tonne of customisation options. 
Choose from 14 different wake-up noises to start the day right, and set your lamp to gradually start lighting up 90 minutes ahead of your wake-up time.
Shop Now
5
SAD Light LED Therapy Lamp
TOPELEK
amazon.co.uk
£26.99
For those that love to customise, this model has 12 different lighting modes with varying levels of brightness so you can adjust your wake-up routine to suit you.
It's shaped like a tablet and has four easy-to-use buttons that control the power, brightness and the timer – no more fiddling around with buttons to lower the brightness at 5:37am. 
Save £5 on this model in the Amazon Prime Day sale now and pay just over £20. 
6
Mlife Portable Light Therapy Lamp,10000 Lux
Mlife
amazon.co.uk
£26.99
A budget-friendly alternative, this Mlife portable lamp can deliver 10,000 lux across three different light modes to help you wake up gently. 
It's a smaller lamp too, so you can place it anywhere in your home and get the full effects of a smoother wake-up routine. 
For less than £30 on Amazon right now, this is a great device to pick up to help treat SAD this winter. 
Shop Now
7
Beurer TL30UK SAD lamp
Beurer
amazon.co.uk
£50.48
This portable SAD lamp is great for taking out on journeys with you thanks to the protective slip case and adjustable stand, helping you prop it up wherever you're sleeping. 
It's simple to use, with just one button to control the power and turn it on. The light level can vary from 2,000lux up to 100,000 (at a distance of 10 cm) on a sunny day, helping you wake up refreshed, combat seasonal depression and combat the lack of light throughout the winter. 
Amazon Prime Day gives you a big discount of 42% on this model, paying £34.99 instead of £59.99.
This content is created and maintained by a third party, and imported onto this page to help users provide their email addresses. You may be able to find more information about this and similar content at piano.io
Advertisement – Continue Reading Below